Joined: Mon Jun 27, 2005 3:31 pm
Location: Indiana
Contact:
---
Joined: Wed Mar 12, 2014 6:06 pm
McCrutchy wrote:It really does look poor. Aquaman is already difficult to take seriously, and a live-action film would need to strike a delicate balance that ideally involved less obvious CGI and less "school of fish/marine life"-type shots. Then the poster was released and it evokes...Finding Nemo, and now WB have released an overstuffed trailer that has far too much bad CGI, and seems to be telling a story like Black Panther, but without the intrigue of a place like Wakanda. The only reason I might be interested in this is Nicole Kidman, but it doesn't seem like she'll have a substantial role with Amber Heard and so many others shoved in there. I do like the look of the Black Manta character, but that's about the only thing that looks impressive.

Unfortunately for DC, this trailer looks a lot like what I would have expected to see if I thought the goal was to carry on in the same vein as Justice League. I see very little in it to suggest that they have changed tactics, and even though James Wan is directing, I suspect this movie was largely made by committee at WB. After all, surely Wan knows how to make franchise films from what happened with Saw and working on Furious 7, and I expect he was hired mainly to be a team player, but also because genre fans recognize his name and probably believe he would be given the kind of creative authority over the project he has seen with smaller horror films. It doesn't seem like that is the case, based on that trailer.
A particular shame, as the whole culture of Atlantis should be really cool. I do like Momoa though. DC needs someone like Kevin Feige who can oversee all the projects and keep things as a cohesive whole. I think that's what they hoping Geoff Johns will do, but he just doesn't seem up to it. And even then, it took Marvel several years to get things off the ground. DC are trying to rush, not to mention putting way too many eggs in the Zach Snyder basket. I think they hoped he'd be their Joss Whedon, but majorly miscalculated. Even with a few flaws,
Wonder Woman
both broke new ground and was frankly, by and large, just a solid movie. It also the one that had the least tying in to do with he whole overall universe, which is very telling.
I
KNOW
that DC are better than this and can be. The Greg Berlanti TV shows, though by no means without their flaws, are lots of fun and do a way better job of casting and world-building. And DC's animation division back in the 90s and 00s under Bruce Timm, the DCAU, is still the bar to clear. I wish they could apply the same level of quality and care to their live-action features.
---
Joined: Sun Aug 14, 2016 12:22 am
---
Joined: Wed Mar 12, 2014 6:06 pm
The so-called Arrowverse of shows-
Arrow, Flash, Supergirl, Legends of Tomorrow
does have its ups and downs, but it's lots of fun.
---
Joined: Mon Feb 25, 2008 4:57 am
Location: East Coast, USA
The other thing that bothers me about the
Aquaman
film is that Djimon Hounsou's "Fisherman King" looks a hell of a lot like someone else (apologies for the low-res GIF, which I put in a spoiler):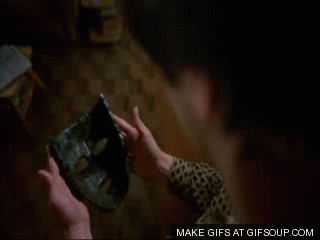 (This is, of course, Jim Carrey in
The Mask
, but it's hard to find a picture or GIF that shows him along with a clear image of the mask not "activated".)
Worse still, there doesn't appear to be a completely corresponding character in the Aquaman comics. There is a character called
"The Fisher King"
, but he apparently only made a few appearances, and he looks completely human:
---
Joined: Sun Nov 21, 2004 12:49 am
Location: Transylvania
Looks suspiciously like Marvel's Triton, though.
---
Joined: Tue Apr 14, 2009 4:29 am
No sign of Dolph Lundgren...
---