Moderator: MichaelB
Joined: Tue Apr 15, 2008 10:25 am
Location: SLC, UT
I think he was saying sadly about Black Rain
---
Joined: Fri Aug 11, 2006 6:20 pm
Location: Worthing
Contact:
No, I was saying "sadly" generally. If you've ever worked in distribution, you'll recognise the sickening lurch of recognition that you're opening something in the wrong week, often in advance of the actual opening but close enough that it's too late to do anything about it.
---
Joined: Tue Mar 10, 2009 3:32 pm
Arrow Video just teased announcements with a picture of a rock. So... Southland Tales???
---
Joined: Tue Nov 01, 2016 3:57 pm
This is what's appeared on the website so far:
Oldboy 4K
Southland Tales
Joint Security Area
REC
Gamera sets that are spilt by eras, as well as a Heisei era steelbook
---
Joined: Thu Apr 16, 2009 5:04 am
Though I really like the film, I couldn't for the life of me think why people were guessing Southland Tales based on that clue. Once I saw the new cover art, I was reminded how much this year has really fried my brain.
---
Joined: Sat Jun 12, 2010 6:10 pm
There are reports of a postcard for The Frighteners being found in Arrow's King of New York UHD.
---
Joined: Sat Jun 12, 2010 6:10 pm
No Academy announcement this month.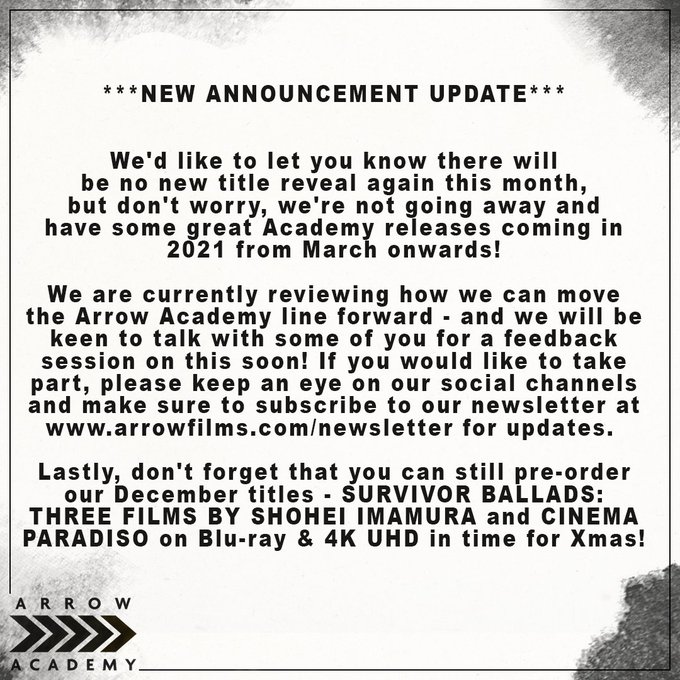 ---
Joined: Wed Nov 03, 2004 1:23 am
Location: Canada
I'm hoping one of the ways they "move the line forward" is to add more Arrow Academy titles to their streaming service. I'm much less interested in most of the Arrow Video titles they currently have streaming.
---