A new label, distributed by Vinegar Syndrome
, which is "focused on reissues of maverick repertory cinema and music that can best be described as works that exist "outside of their time." Spanning an array of genres, artists and countries, but with a unifying focus on forgotten and overlooked treasures, each Fun City release, be it a Blu-ray or vinyl LP, will present new restorations and comprehensive extras which contextualize and illuminate the artistic and historic value of the piece."
Their first couple of releases:
Johnny (Vincent Spano, Baby It's You and Over the Edge) controls the drug trade in New York's rough Alphabet City neighborhood - as long as his mob bosses let him. But, when he refuses to follow orders to torch the tenement building he grew up in, Johnny puts himself and his loved ones in their unforgiving crosshairs. No Wave filmmaker Amos Poe's (The Blank Generation and Subway Riders) neo-noir cult favorite oozes '80s neon-lit, punk-tinged style.

The innovative and vividly colorful visuals spring from the lens of cinematographer Oliver Wood (TV's Miami Vice, The Honeymoon Killers and Face/Off). Chic co-founder and dance music legend Nile Rodgers' supremely catchy synth-pop score propels the action. The cast of rising and veteran talents includes Kate Vernon (Pretty in Pink), Jami Gertz (Less Than Zero and The Lost Boys), Michael Winslow (the Police Academy series), Kenny Marino (Prince of the City and Death Wish 3) and Zohra Lampert (Let's Scare Jessica to Death and Splendor in the Grass).

Restored and available on Blu-ray for the first time, Alphabet City is an evocative cinematic snapshot of a New York City that has long since vanished.

Bonus Features:
1. Region A Blu-ray
2. Newly scanned & restored in 2k from its 35mm interpositive
3. Newly recorded audio commentary by director Amos Poe and writer Luc Sante
4. Newly filmed interview with actor Vincent Spano
5. Theatrical trailer
6. Image gallery
7. New video essay by filmmaker Chris O'Neill
8. Reversible cover
9. English SDH subtitles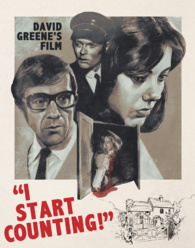 As young Wynne (Jenny Agutter, Walkabout and An American Werewolf in London) comes of age, a psychotic killer of teen schoolgirls stalks her hometown, which is rapidly transforming from an antiquated village to a forward-looking "new town." Is the murderer Wynne's much older foster brother George (Bryan Marshall, The Spy Who Loved Me and The Long Good Friday)? The conflicted Wynne is deeply in love with George, but also fears that he is guilty of the horrific crimes. Director David Greene (Godspell, The Shuttered Room and TV's Roots) imbues Audrey Erskine Lindop's unsettling story with sensitivity, social commentary, and a haunting ambience.

An impressive roster of behind-the-scenes talent contributes to the look and feel of this cult favorite: writer Richard Harris (TV's The Avengers and Man in a Suitcase), cinematographer Alex Thomson (Excalibur, The Keep and Labyrinth), and production designer Brian Eatwell (Walkabout, The Man Who Fell to Earth and White Dog). The innovative music score is by pioneering electronic and experimental composer Basil Kirchin (The Abominable Dr. Phibes and Mutations).

This long sought-after thriller is a gem of late-'60s British filmmaking, now restored and ready to be rediscovered!

Special Features and Technical Specs:
BRAND NEW 2K RESTORATION FROM 35MM INTEPOSITIVE
A Kickstart: Jenny Agutter Remembers I START COUNTING (video interview)
Video introduction by Jenny Agutter
Loss of Innocence: A Video Essay on I START COUNTING by Chris O'Neill
Audio Commentary with film historian Samm Deighan
I Start Directing: David Greene's Complicated Family Stories by Amanda Reyes
Remembrances of Basil Kirchin
David Green and I START COUNTING! by Matt Stephenson
Trailer
Image gallery
English SDH subtitles
REGION-A "LOCKED"