Forum rules
Please do not clutter up the threads for MoC titles with information on pre-orders. You can announce the availability of pre-orders in the
MoC: Cheapest Prices / Best Places to Buy / Pre-Orders
thread. Any posts on pre-orders in any other thread will be deleted.
Bloodthirsty Butcher
Joined: Tue Apr 15, 2008 10:25 am
Location: SLC, UT
Will this be the oldest film available on UHD? Them's some good bragging rights
---
Joined: Sun Apr 10, 2011 11:12 am
---
Joined: Thu Aug 16, 2007 7:30 pm
Location: Texas
Is the 1910 Frankenstein on Arrow's 4K of the Branagh film in full HD?
---
Joined: Tue Nov 01, 2016 3:57 pm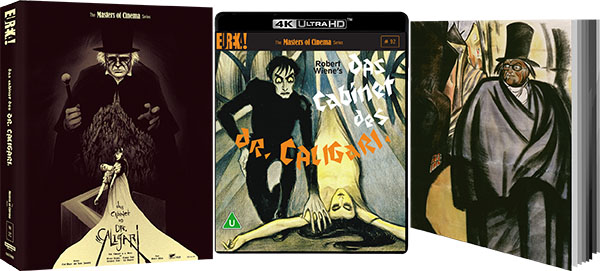 Special Features:
Limited Edition Box Set - 3000 Copies
Limited Edition hardcase featuring artwork by Kevin Tong (Tragic Sunshine)
4K (2160p) UHD Blu-ray presentation from the extensive restoration completed by FWMS in 2014
Limited Edition 100-PAGE BOOK featuring archival writing and articles including vintage writing on the film by Lotte H. Eisner; an original Variety review of the film; rare imagery; and more
Score by Cornelius Schwer (2014) – LPCM stereo and 5.1 surround options
Score by Uwe Dierksen & Hermann Kretzschmar (2019) – LPCM stereo
Original German intertitles with optional English subtitles
Brand new audio commentary by Kevin Lyons and Jonathan Rigby
Audio commentary by film historian David Kalat
The Asylum in Film – brand new interview with author / critic Kim Newman
You Must Become Caligari – video essay by film critic David Cairns
Caligari: The Birth of Horror in the First World War – 52 minute documentary on the cultural and historical impact of the film
On The Restoration – three short video pieces on the film's restoration
Trailer
---
Joined: Mon Jul 07, 2008 5:09 pm
Location: Edinburgh, UK
That looks rather lovely.
---
Joined: Mon Jul 16, 2012 2:26 pm
they're ambiguous about the inclusion of HDR, but the inclusion of new extras, a 100 page book, and gorgeous hardbox cover make this well worth the while even if it is just an SDR UHD. I couldn't find myself buying SDR UHDs from Criterion that are the same editions as previous releases (NOTLD, certainly), I have from Kino for movies that got less than stellar BDs (the Leones, The Great Escape), but throwing in some copious extras and a gorgeous package make it easy to get this one. the BD already looks great, can't wait to see it as it is now.
---
Joined: Mon Jul 07, 2008 5:09 pm
Location: Edinburgh, UK
Fidelity in Motion tweeted that they're encoding Caligari.
---